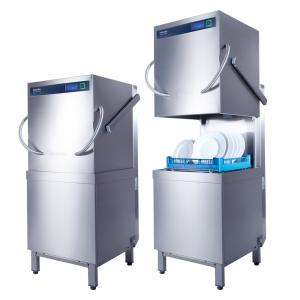 WRAS 5 Approved
Shortest programme cycle – 50 seconds
Plates capacity – 1296 plates
Baskets capacity – 72 baskets/h
Large handles on the hood ensure ease of use
Automatic programme start on closing hood
Optional feature: automatic opening of hood
Easy-to-clean surfaces
3 + Additional Programmes
4 levels of filtration
Turbidity Sensor
Tested for 440,000 cycles
Freestanding model
With its new PG 8172 and PG 8172 Eco dishwashers, Miele Professional is once again showing off its expertise in the field of innovative cleaning systems, first-class cleaning performance, high-capacity throughput,top-class user convenience and compelling cost-efficiency. These dishwashers excel throughout their entire life cycle in terms of the total cost of ownership, taking the machine, electricity, detergents and servicing into account. Miele's embossed elliptical spray arms gives 100% cabinet coverage from top to bottom, and the amazing turbidity sensor keeps the calirty of the water at its finest to remove the risk of spotting on your beautiful glassware and crockery. The cyclone filter is designed to overcome problematic solid waste like coffee grounds, and of course they benefit from the Miele build quality and longevity being tested for 440,000 cycles.