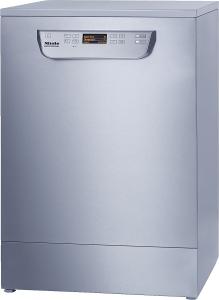 WRAS 5 Approved
Shortest programme cycle – 6 mins
Plate capacity – 456 plates/h
13 Dishwashing programmes (super short)
85*C Final rinse temperature
Auto Open door lock
Tested for 15,000 cycles
Freestanding model
The PG 8058 BRILLIANT produces perfect wash results with a sparkling finish, dispensing with the need to polish glassware and cutlery if supplied from a RO water system. This feature combined with the fresh water circulation system are unique to Miele Professional.
About the PG 8058 Brilliant dishwasher
When a customer visits your hotel, restaurant or leisure business, it is paramount that they have the best possible experience so they return time and time again. This relationship starts with the minor details; so it is more important than ever to make a positive first impression.
The BRILLIANT dishwasher from Miele Professional can help you to do this by guaranteeing spotless glassware and cutlery. And with nine in ten consumers stating that clean glassware, crockery and cutlery is very important to them[1], don't you think it's the right time to go one better than your competitors?
Eradicating the need for manual polishing, the BRILLIANT (PG8058) achieves such excellent results thanks to Miele's unique fresh water system. Making use of 13 wash programs and a short cycle time of just five minutes, this powerful machine delivers professional standards whilst saving you time and money.
Built in features such as 'Glassware Special' and 'Perfect GlassCare' allow you to get the results you need without extra hassle. Using de-mineralised water, the BRILLIANT dishwasher will leave your glasses shining and stain free without needing to spend hours polishing them.
The BRILLIANT's steam condenser works in combination with the automatic AutoOpen function to ensure that items are effectively dried and cool down fast, allowing the machine to be unloaded quickly – perfect for a busy commercial kitchen.
Benefits you'll love
Guaranteed spotless glassware and cutlery
Water hardness is automatically adjusted to suit glassware, increasing its lifespan
13 wash cycles, with a fast cycle time of 5 minutes
Quick drying glassware and cutlery with steam condenser and AutoOpen function
2kg salt container is located in door making it easier to access
[1] Survey carried out by Censuswide. 2,000 UK consumers were surveyed online between 13-17 February 2014