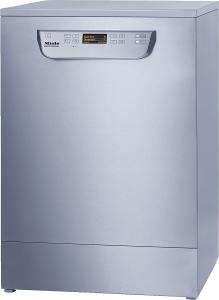 WRAS 5 Approved
Shortest programme cycle – 15 mins at 85*C
Plate capacity – 456 plates/h
13 Dishwashing programmes (super short)
85*C Final rinse temperature (Thermal Disinfection)
Auto Open door lock
Tested for 15,000 cycles
Freestanding model
About the Miele Professional HYGIENE dishwasher
Whether you work in a care home or a hospital, using clean equipment is of the utmost importance, and you need a dishwasher to ensure that your crockery, cutlery, and glassware receive only the best in cleanliness, so you can feel safe knowing that risk of infection in these high-risk environments is kept at bay.
To deliver these results, the HYGIENE dishwasher from Miele Professional integrates innovative technology as well as a number of clever features to give you complete control over your wash cycle. This industrial dishwasher can achieve a water temperature of up to 60° C in the main wash, and to ensure the best finish, rinses and disinfects the items at 83° C for 5 minutes.
For complete control over your cycle, the HYGIENE features 13 wash programs that allow you to get the best results, even on mixed loads. What's more, the integrated water softener ensures that your items aren't given just a thorough wash, but a gentle one too.
As practical as it is clever, the HYGIENE provides ample space for even large items to be cleaned, and thanks to the removable baskets, it's quick and simple to clean, inside and out. It also makes use of the AutoClose and AutoOpen feature, which automatically closes and opens the dishwasher. What's more, the in-built steam condenser works with the AutoOpen feature to ensure items dry fast, allowing you to unload quickly if your running short on crockery or glassware in the kitchen.
Benefits you'll love
Guaranteed spotless glassware and cutlery
Results are guaranteed with a wash at 60° C and a rinse temperature of 83° C
13 wash cycles, for complete control
Quick drying glassware and cutlery with steam condenser and AutoOpen function
Easy to clean inside, as well as outside thanks to its smooth stainless steel design