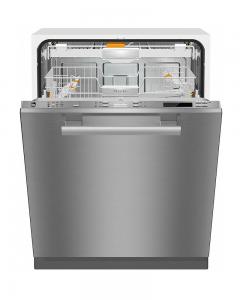 For large amounts of crockery in households, office tea rooms and utility areas
Wash performance: 14 place settings in just 17 minutes
Perfect lighting for easy loading – BrilliantLight
The best care for your glasses – Perfect GlassCare
Everything completely dry – AutoOpen assisted drying
Easy communication – WiFi Conn@ct
Integrated water softener
Ensures the optimum water hardness level: The built-in softener ensures the optimum hardness level of the water for perfect dishwashing results.
Patented 3D+ cutlery tray
Greater flexibility: the middle section with hinged row of spikes can be lowered, offering space for large items.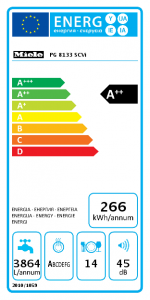 Low consumption values
Economical and efficient: Miele Professional dishwashers stand out with low consumption values.
For businesses
These dishwashers are ideally suited for all areas which deal with large amounts of crockery.
Patented AutoOpen assisted drying
Completely dry: The dishwasher door opens automatically at the end of the programme.
Perfect GlassCare
A gentle way to a perfect shine: With Perfect GlassCare, your glasses are thoroughly and gently cleaned.
Quality you can rely on
Durability: Miele Professional dishwashers are tested for a long service life.
Simplest user interface
Intuitive & easy to operate: All programmes can be selected quickly & started at the touch of a button.
BrilliantLight
Brilliant visibility: Four LEDs illuminate the entire interior cabinet for easy loading and unloading.
ComfortClose
Convenient: The door can be closed very easily.