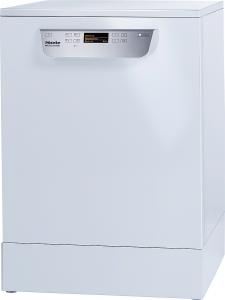 WRAS 5 Approved
Shortest programme cycle – 9 mins
Plate capacity – 225 plates/h
11 Dishwashing programmes
70*C Final rinse temperature
Easy Open door lock
Tested for 15,000 cycles
Freestanding model
The PG 8055 SPEED and PG 8056 SPEEDPlus are the fastest commercial dishwashers using the fresh water circulation system and are ideal for hotels, restaurants, clubs and schools. With its shortest wash cycle of just 5 minutes it can wash up to 456 plates an hour.
About the Miele Professional SPEED dishwasher
Thanks to its innovative technology, the Miele SPEED can deliver a high quality clean in just 9 minutes; perfect for large clubs, hotels, or schools. This quick appliance can even run up to 40 cycles a day, and up to 200 plates in the lower basket alone thanks to its unique freshwater system.
11 integrated programs give you full control over your wash, and allow you to get the best clean to meet your needs; you can even save your three most used as favourites for quick use. Not just fast, the SPEED's reduced cycle times allow you to save on energy costs, and cycles like 'short' and 'universal' allow it to use only 0.1kwH per wash, cutting previous requirements in half.
With more than just speed in time, the Miele SPEED provides ample space for large cooking equipment, and with its three built in wash arms, no items are left unwashed. This clever commercial dishwasher is also accomplished at handling mixed loads, so even if you're washing crockery, cutlery and glassware, you're guaranteed exceptional results.
The Miele SPEED dishwasher can also maintain a final rinse temperature of 70 (degrees), meaning your items don't just get a fast wash, but they come out looking like new. Thanks to its removable baskets and trays, this dishwasher is extremely easy to clean, both inside and out.
Benefits you'll love
Up to 200 dishes can fit in to the lower basket alone
Up to 40 cycles can be achieved each day, perfect for busy establishments
11 wash cycles, with a fast cycle time of 9 minutes
Easy to use touch screen controls, with the ability to save your three favourite cycles for quick use
Three spray arms ensure every corner is covered