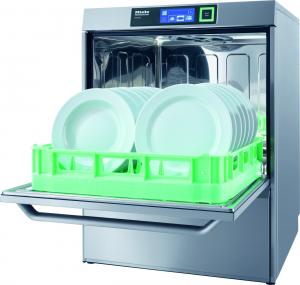 WRAS 5 Approved
Shortest programme cycle – 55 seconds
Glasses/plates capacity – 1188 plates
Baskets capacity – 66 baskets/h
3 + 4 Additional Programmes
4 levels of filtration
Turbidity Sensor
Tested for 250,000 cycles
Freestanding model
With Miele's new range of Tank Glasswashers and Dishwashers you will achieve fast wash cycles with high quality results. They are highly economical for large, continuous throughputs. The touch display makes them simple and fast to use with different basket configurations for varying loads, and the display is also customisable so you can programme your most common wash cycles with ease. Miele's embossed elliptical spray arms gives 100% cabinet coverage from top to bottom, and the amazing turbidity sensor keeps the clairty of the water at its finest to remove the risk of spotting on your beautiful glassware and crockery. The cyclone filter is designed to overcome problematic solid waste like coffee grounds, and of course they benefit from the Miele build quality and longevity being tested for 250,000 cycles.