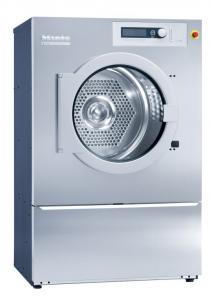 Capacity: 10-13Kg
Vented
Profitronic M Controller
Short operational times
Flexibility: timed or sensor drying options
Patented stainless steel honeycomb drum
Large filter surface area
Programme variety
Electric or Gas variants available
With Miele's Patented Honeycomb Drum it ensures the gentle care of fabrics combined with first class cleaning and drying performance. These Residual Moisture Control Dryers have accurate sensors that measure moisture in the garments to reduce drying times and lower energy costs.
A G-Force of up to 526 occurs during extraction, reducing drying times, energy costs and extending the life of the garment.
Profitronic M electronic controls with multi-function selector and user navigation screen has 199 programme slots with many specialist applications. Programme selection is via rotary selector or 6 short cut buttons can be freely programmable.  It also features clear text display with user navigation.