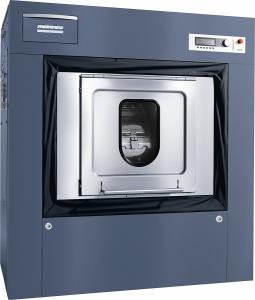 Capacity: 32Kg
WRAS approved product
Patented stainless steel honeycomb drum
Freely programmable PROFITRONIC-M controls
Fully automatic drum positioning at the end of programme
Capture of all relevant operating data as standard
Easy to install as machine depth only 890 mm
Legendary Miele Quality – MADE IN GERMANY
With Miele's hygiene system and the new barrier washer-extractors you can be sure that your laundry processing is in safe hands. In accordance with European Regulation (Risk Analysis Biocontamination Control System (RABC)/EN 14065).  Contact us for our 'Best Practise' advice on designing an efficient Barrier Laundry.
About the Miele Professional PW6323 barrier washer
With a number of features to ensure the cleaning process, from loading to unloading is as safe and efficient as possible, the PW6323 is the perfect cleaning solution for establishments with a high turnover of laundry that may be soiled, infected, or even contaminated.
Ideal for large launderettes, hospitals, or care and retirement homes, the PW6323 integrates a Miele patented honeycomb drum, which has a substantial 360 litre capacity, able to process large loads and even awkward sized items. Like all Miele washing machines, the inbuilt honeycomb is perfect for ensuring a thorough yet careful wash, thanks to a thin film of water that forms around the interior. This film helps to cushion items so they are protected from any form of fibre damage or pilling during the wash.
To give operators full control over the cycle, the PW6323 uses Profitronic M controls, which gives you 199 slots for fully customizable programs, as well as a number of pre-defined programs to get you started straight away. The controls are simple to use, and the display screen tells you exactly how long the cycle has left, allowing your operators to juggle busy workloads efficiently.
As well as an electronically controlled dosage system and a connection for up to 12 dispenser pumps, the PW6323 barrier washer uses both thermal and –chemo thermal disinfection programs, as well as holding items at precise temperatures throughout the cycle. The operator is also able to customize these holding times to get the results they require.
Once the cleaning cycle is finished, this model automatically positions the drum at the clean side of the washer, so that unloading is quick, safe, and easy. What's more, with the large ergonomic door, loading and unloading even large items is effortless.
Designed, tested, and built to last up to 30,000 wash cycles
Drum design and optimised drum rhythms help to saturate the laundry quickly, keeping program times short and water consumption low
Fully automatic drum positioning at the end of program
A load capacity of 32kg allows you to wash even large loads
Easy to install as machine depth only 890 mm