Capacity: 24 Kg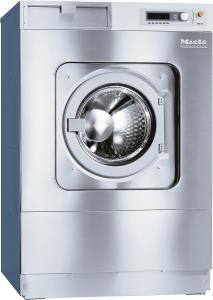 WRAS approved product
Patented stainless steel honeycomb drum
Healthcare applications: Dump valve drain versions feature sluice and thermal disinfection programmes
Profitronic M controller with 199 programmes
High G-factor
Low residual moisture
On the Commerical Laundry Range, all the machines are in the Stainless Steel finish with a Dump Valve as standard. The Profitronic M electronic control with multi-function selector and user navigation screen features 199 programme slots for all specialist applications. Programme selection is via rotary selector or 6 short cut buttons and has clear text display with user navigation.
About the Miele Professional PW6241 washer extractor
With one of the largest drum capacities in the range, the PW6241 washing machine from Miele Professional is the perfect solution for large launderettes or businesses with a high turnover of laundry. Delivering exceptional results with each wash, this industrial washer can process even large loads quickly and efficiently.
Integrating a substantial 24kg drum capacity, allows the PW6241 to handle even large awkward items not suitable for domestic washing machines, and thanks to Miele's patented honeycomb drum design, items are protected from fibre damage and pilling. To protect laundry, the honeycomb drum creates a thin film of water around the items, ensuring they're cushioned during the wash, without compromising results.
Another feature of the PW6241 is the Profitronic M controls, included as standard with all WashPlus machines in the range. These controls allow for complete customization, and give you up to 199 programmable slots, so you can dictate how items are cleaned down to the finest detail. Also included are a number of pre-defined programs, so you can get cleaning right away. With ease in mind, all Profitronic M controls are simple to use and the display on the appliance tells you exactly how long the cycle has left.
Made with the environment in mind, the PW624, like many washing machines in the range, is made from 90% recyclable material, which is both high-quality and highly sustainable. It also features an automatic weighing system, which ensures the machine always delivers the best results, whilst ensuring it's cost effective. Finally, the stainless steel design allow for easy cleaning and upkeep, whilst providing a professional look to any cleaning room.
Designed, tested, and built to last up to 30,000 wash cycles
Drum design and optimised drum rhythms help to saturate the laundry quickly, keeping program times short and water consumption low
Easy controls make washing simpler, and built in programs give you complete control over your wash
A load capacity of 24kg allows you to wash even large loads