Capacity: 6.5 Kg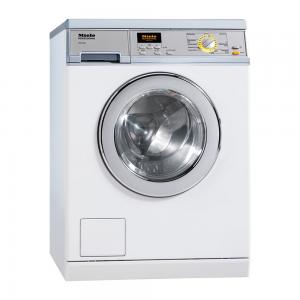 WRAS approved product
Short operational times
Patented stainless steel honeycomb drum
Healthcare applications: Dump valve drain versions feature sluice and thermal disinfection programmes
Programme variety

Compact in size, but built and tested to commercial specifications, the Little Giants offer you gentle, but economical, laundry care; fast throughput, optimum results and low running costs. Available in Lotus White (non yellowing) or stainless steel, and in drain pump or dump value variations. Also stackable via additional kit.
With a spacious drum size and a number of helpful features, the PW5062 commercial washing machine is designed to be ideal for businesses in the health, leisure, and many other sectors.
This efficient washing machine can reach spin speeds of up to 1400 rpm, and with a load capacity of 6.5kg, you'll get brilliant results, even on large and mixed loads. What's more the PW5062 includes Miele's patented honeycomb drum, which uses a thin film of water during the wash to help cushion items during the cycle. This not only ensures they get a thorough clean but protects laundry from potential fibre damage or pilling.
The PW5062 also integrates easy to use Profiline B plus controls, which gives the operator a number of pre-defined programs, as well as the option to customize a number of programs to give you the results you require. The inbuilt digital display shows exactly how long the cycle has left, allowing your operators to manage their workload efficiently.
Benefit's you'll love
Perfect for health and leisure clubs
Spin speeds of up to 1400 rpm for a deep clean
Easy controls make washing simpler
A load capacity of 6.5kg allows you to wash even large loads