Capacity: 5.5kg
WRAS approved product
Short operational times
Patented stainless steel honeycomb drum
Healthcare applications: Dump valve drain versions feature sluice and thermal disinfection programmes
Programme variety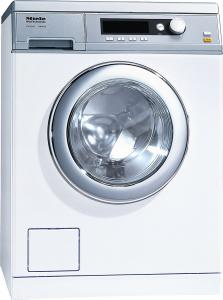 Compact in size, but built and tested to commercial specifications, the Little Giants offer you gentle, but economical, laundry care; fast throughput, optimum results and low running costs.  Available in Lotus White (non yellowing) or stainless steel, and in drain pump or dump value variations.  Also stackable via additional kit.
Tcompact PW6055 from Miele Professional is perfect for small scale laundries. Thanks to its small footprint and ability to stack together with other appliances in the range, such as the PT7136, makes this machine, part of the Little Giant range ideal for businesses needing a compact laundry solution.
When paired with a tumble dryer from the Little Giant range, the PW6055 can wash and dry a complete load in just 90 minutes, and with a capacity of 5.5kg, allows you to clean even large loads quickly. Not just quick, this industrial cleaner integrates Miele's patented honeycomb drum, which creates a thin film of water to protect laundry and fibre damage.
The PW6055 also features a number of inbuilt programs; 16 standard programs and 5 individually programmable special options. What's more, it also includes Profitronic L Vario control with 3 user interfaces, which ensures flexible usage as well as the ability to delay the cycle for up to 24 hours.
Designed, tested, and built to last up to 30,000 wash cycles
Drum design and optimised drum rhythms help to saturate the laundry quickly, so program times are kept short and water consumption levels are kept low
Easy controls make washing simpler, and built in programs give you complete control over your wash