Capacity: 6.5Kg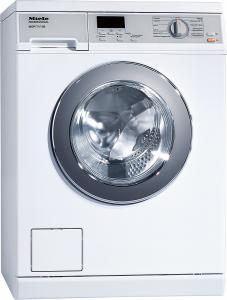 Programmes specially designed to clean mops (cotton and micro-fibre), cloths, pads and even a programme for cleaning the machine
Optimum residual moisture to cater for a range of applications
Safe washing and disinfection processes which comply with the relevant process parameters issued by health authorities
Documentation of washing and disinfection processes possible
Additional standard programmes, e.g. for washing curtains and workwear
Decades of experience and expertise make Miele Professional the ideal partner for contract cleaners. Proof of this is provided by Miele's new MOPSTAR washing machines. Developed with the challenges of workaday life in mind, they guarantee the perfect reprocessing of mops, cloths, workwear and other textiles. Also stackable via additional kit.
About the Miele Professional Mopstar 60 mop cleaner
The Mopstar 60 industrial washing machine has been specifically designed to deal with mops, cotton and micro-fibre cloths, as well as pads.
Ideal for contract cleaners, as well as businesses with a high turnover of cleaning equipment, this efficient machine use monitored program cycles to ensure that materials are washed and disinfected to the highest standard, every time.
To help live up to industry expectation, the Mopstar 60 offers a choice of thermal and chemo-thermal disinfection processes, giving you peace of mind knowing that your reusable mops and cleaning cloths will always conform to industry standards. What's more, Miele's patented honeycomb drum ensures your items are given a deep yet gentle wash, thanks to its clever design that allows for a thin film of water to form, protecting laundry and preventing fibre damage.
As well as ProfiLine mop controls, this efficient machine also integrates, as standard, additional programs for washing curtains, workwear, as well as a range of other materials.
Benefit's you'll love
Designed, tested, and built to last up to 30,000 wash cycles
Special programs ensure effective disinfection and hygienic reprocessing of mop heads, curtains and cleaning pads
Drum design and optimised drum rhythms help to saturate the laundry quickly, so program times are kept short and water consumption levels are kept low
WRAS approved – category 5