Capacity: 10Kg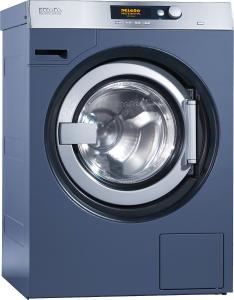 WRAS approved product
Patented stainless steel honeycomb drum
Healthcare applications: Dump valve drain versions feature sluice and thermal disinfection programmes
Programme variety
High G-factor
Low residual moisture
On the Octoplus range, all the programme options from the Profiline and Professional series come as standard. The washing machines have 72 standard and special-purpose programmes. Available in Octoblue or Stainless Steel with Octoblue side panels, and in drain pump or dump valve variations.
About the Miele Professional PW5105 washing machine
Built and tested to an exceptionally high standard, the PW5105 from Miele Professional utilizes a large drum size to deliver deep and efficient cleans for even large loads.
With a large 8kg drum capacity, the PW6080 can clean even large loads of laundry, and when paired with an equivalent Miele tumble dryer, can wash and dry a full load in just 80 minutes. What's more, the integrated Miele patented honeycomb drum helps to protect laundry and prevent fibre damage by creating a thin layer of water around the interior; perfect for those needing a gentle clean to a high standard.
Designed, built, and tested to last the equivalent of 30,000 wash cycles, the PW6080 uses optimised drum rhythms to help saturate the laundry quickly, so that wash times and consumption levels are kept low. What's more, to give you complete control over the cycle, this efficient appliance integrates Profitronic L Vario control, with 16 basic programs, and 22 target-group programs..
Designed, tested, and built to last up to 30,000 wash cycles
Drum design and optimised drum rhythms help to saturate the laundry quickly, keeping program times short and water consumption low
Easy controls make washing simpler, and built in programs give you complete control over your wash
A load capacity of 6.5kg allows you to wash even large loads