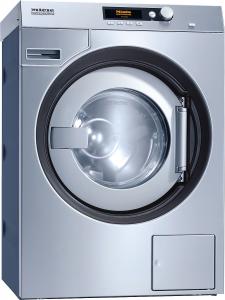 About the Miele Professional PW6080 washing machine
Offering exceptional results in a compact design, the PW6080 is ideal for small businesses needing an efficient washing machine with a small footprint.
With a large 8kg drum capacity, the PW6080 can clean even large loads of laundry, and when paired with an equivalent Miele tumble dryer, can wash and dry a full load in just 80 minutes. What's more, the integrated Miele patented honeycomb drum helps to protect laundry and prevent fibre damage by creating a thin layer of water around the interior; perfect for those needing a gentle clean to a high standard.
Designed, built, and tested to last the equivalent of 30,000 wash cycles, the PW6080 uses optimised drum rhythms to help saturate the laundry quickly, so that wash times and consumption levels are kept low. What's more, to give you complete control over the cycle, this efficient appliance integrates Profitronic L Vario control, with 16 basic programs, and 22 target-group programs..
Designed, tested, and built to last up to 30,000 wash cycles
WRAS approve – Category
Easy controls make washing simpler, and built in programs give you complete control over your wash
A load capacity of 8kg allows you to wash even large loads