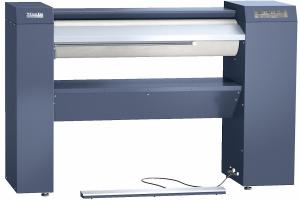 The PM1210 flatwork ironer has been designed to provide operators with the most helpful set of controls, as well as giving businesses the capability to achieve a high output of pressed laundry. This ironer is all about delivering the perfect finish through clever design features and its ergonomic approach.
Based on a residual heat of 15%, the PM1210 ironer can deliver a basic 24kg/h throughput but can achieve 35kg/h with the purpose-designed fan. These results are possible thanks to a choice of temperature and speed controls, all of which are selectable from the touch screen, something which is exclusive to Miele.
Operators can make use of the unique temperature control feature which allows increments of 1°C, compared to industry standards of 5°C or 10°C. This means that items can be ironed at the best possible temperature within one of three ranges: 100 -110°C, 111 -150°C, and 151 -185°C. When put into standby mode, these temperatures are maintained for up to 30 minutes without the need to heat up the machine after an operator break.
The PM1210 has three speed controls to allow operators to fine tune the output of the ironer to their requirements; it can run at 1.5 – 2.2 metres/minute, 2.3 – 3.2 metres/minute, and 3.3 – 4.0 metres/minute. These controls can form part of the 'favourite' programme which allows the operator to save the specific functions for the most frequently used settings, whether for napkins or bed linen.
One operator can control the PM1210 due to the return feed functionality, and they can work either seated or standing up. This is made possible with the adjustable working heights and the optional plinth that increases the height by 100mm.
Product Key Features
24 kg/h laundry throughput at 15% residual moisture, 35 kg/h with fan feature
Operators can save most common ironing settings as a favourite for simple set-up
Three speed and temperature range settings
Adjustable working height for improved ergonomics
Pause function maintains temperature for maximum productivity
Flex control foot switch gives operator full control
There are other ironers available please contact us for further information or alternatively please complete the Enquiry form.