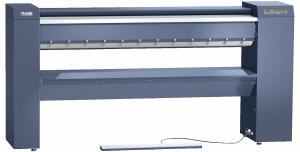 The PM1217 flatwork ironer ensure high laundry throughput, user-friendly operation and optimum ironing results. It allows operators to have the flexibility and control they need to achieve the perfect finish and quality when pressing sheets, napkins and towels. This ironer has been designed with the operator in mind, with a range of features to improve ergonomics.
With an adjustable height and optional plinth, this ironer can be operated by users who are seated or standing up, and also takes into account those of different heights. The PM1217 can be used in through-feed mode which requires two operators for a more efficient output of laundry.
Based on a residual heat of 25%, the PM1217 ironer can deliver 60 kg/h throughput of laundry. This is made easier with the exclusive touch screen controls where choices of speed and temperature are available to be set by the operator. This touch screen helps to improve accuracy when using the ironer, as other models available on the market rely on manual dials.
With temperature increments of 1°C a feature of this ironer, operators can regulate the settings according to the items being pressed. Temperatures can be set from 100°C to 185°C, allowing the ironer to be fully customisable to meet requirements.
The PM1217 has a clever indicator to let operators know when the cleaning and waxing function needs to be activated in order to keep the components running smoothly free of the starch that is found on tablecloths and other items.
Product Key Features
60 kg/h laundry throughput at 25% residual moisture
Operators can save most common ironing settings as a favourite for simple set-up
Three speed and temperature range settings
Adjustable working height for improved ergonomics
Pause function maintains temperature for maximum productivity
Flex control foot switch gives operator full control
Cleaning and waxing setting to maintain components
There are other ironers available please contact us for further information or alternatively please complete the Enquiry form.