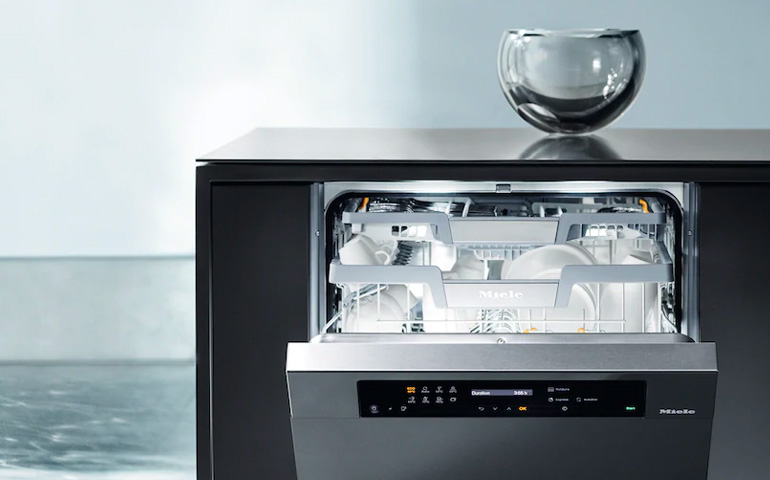 Miele – using science to make things more efficient
The watchword for 2022 is undoubtedly efficiency. Efficiency suggests potential cost savings, given that the efficiency of a machine indicates how well its input energy is converted to useful output energy or work.
Now without going into the laws of energy conservation, thermodynamics or the like, here we are talking about a dishwasher that does its job quickly, effectively and doesn't use excessive water or power.
The energy and water use information on an appliance's rating tag is based on a standard run cycle.
The less energy an appliance uses, the less it costs to run, generating the sound "kerching", ie: more cash in the pocket. Many dishwashers have programmes that allow you to run them more efficiently, adjustable temperature settings, eco-buttons and autowash that do it all for you – as efficiently as possible.
Reliability is also part of the equation, of course. How efficient is that machine if it stops working after a few years, because that will also hit your pocket – and impact the environment? Most dishwashers are designed and tested to last around a decade, give or take a couple of years. A couple of manufacturers claim much longer, and more on that below.
Efficiency and performance
In today's world, efficiency is more important than ever with ever-spiralling energy costs and so a case can be made for more efficient equipment, even if the initial outlay is greater. New commercial dishwashers are usually energy efficient, meaning reduced water, electricity and gas consumption.
Efficiency is about minimising waste and in this case saving money and being environmentally friendly. Efficiency also comes hand in hand with performance. The equipment needs to cope. If business is booming necessitating quick turnaround times, short programme cycles are needed without compromising on quality of results.
Let's take a look at what needs to be considered when making a commercial dishwasher purchase.
Speed
Commercial appliances are designed to cope with demand and for higher temperature use. A quick turnaround on crockery, cutlery and glassware is needed in a busy commercial workspace, so fast and efficient cycles with quick drying times and hygienic function come as standard.
Capacity
In addition to speed and hygiene, capacity is a must with a commercial dishwasher. While they can appear to be the same size as their domestic counterparts, it's the inside that counts. They come in a variety of sizes to aid with space saving, so under the counter models are also available.
Cost
And here's the rub. It might be assumed that a domestic appliance will cost less to buy and while the initial payment might prove that to be the case, a machine's efficiency, frequency of use, repairability and life cycle are factors to consider. A domestic machine is rated for a fraction of the use of the more durable commercial machine and so higher operating costs for a domestic machine are also married to their tendency to have higher maintenance costs.
There are many different brands of commercial and domestic machines on the market, but as one might expect Miele are among the leaders, using science to seek efficiency.
Commercial appliances
Miele Professional machines have numerous connection options and powerful heater elements that enable short cycles and optimum cleaning results with maximum economy. Dispenser modules guarantee the efficient use of cleaning agents and rinsing agent, while the water preparation systems optimise the wash results.
Miele's fresh water professional dishwashers boast maximum hygiene efficiency and change the water after each cycle, so no washing in recycled water. A thorough rinsing in a temperature suitable for the items being also ensures results that exceed the requirements of commercial use. They are also highly economical and have short cycles.
Miele have also applied their innovative outlook to their tank system machines which are perfect for continuous use. Once the tank system has been started, the system is constantly ready for use. This is achieved because the dishwasher maintains the temperature of the water at 65 °C – for extremely short cycles and the best cleaning results.
Domestic appliances
In terms of the domestic variety, Miele is again a good choice. According to website Earth911 the most efficient machines come from the Miele factory. This is based on water use; energy use (less than all other brands), eco cycle options, promised lifespan of 20 years, consumer rating reports, more 'very good' ratings than others, warranty and price. When all these factors were thrown into the mix, Miele came out on top.
Meanwhile leading comparison website inthewash.co.uk, reports that three of the top five domestic machines are by Miele. And more proof can be found on the Energy Star website. Energy Star is the US government-backed symbol for energy efficiency and provides unbiased information that consumers and businesses rely on to make well-informed decisions. Its 2022 Most Efficient dishwashers list is dominated by Miele.