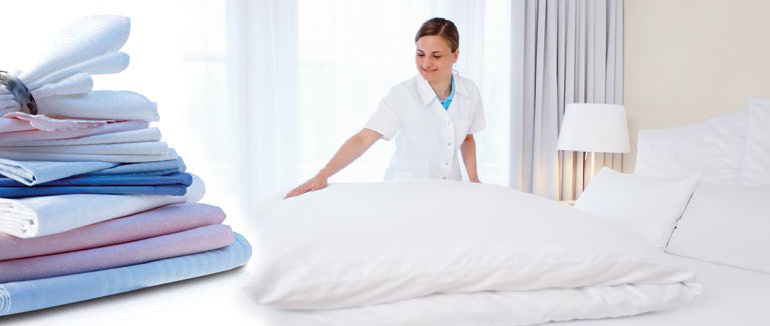 We've written about ironers on these pages before but focused more on the bigger appliances.
These beasts are amazing, but not for every commercial operation. If you are the purchasing person in a hotel, hospital, care home or large catering operation, then you will know these are probably the go-to for in-house laundry. Flatwork ironers are used in businesses with high volumes of laundry which iron sheets, table clothes and other large items automatically. These ironers are dual purpose – removing creases and also drying at the same time.
And like most things these days you can buy them on Amazon! Prices range from £4,500 to nearly £9,000 plus £400+ delivery costs. What you don't get is that bespoke service throughout that appliance's life, nor the expert advice and installation and peace of mind that comes with a dedicated provider like Liver Laundry.
There are smaller, space saving versions too, ideal for the smaller commercial operation like a bed and breakfast – more for the pillow case and napkin. You can also buy these on the world's biggest market place for a little over a grand and again with the large delivery costs and the attendant drawbacks mentioned above. Who in their right mind operating in the commercial sector would order such an ironer from a humungous shed near to a motorway?
Before looking at the smaller ironers, just a reminder that we supply the bigger ones too, from Miele's amazing PM range. These high-performance flatwork ironers are able to process more than 200 kg of laundry per hour – that's more than a tonne and a half of laundry each day. They may be big, but they are also compact and provide unique user convenience, deliver the perfect laundry finish and have exclusive features and excellent power.
Compact ironers are space savers
Miele's rotary ironers also set the benchmark for efficiency, reliability and convenience and are perfect for small laundry needs. These compact ironers can also be placed against a wall to save space. There's two on offer. Firstly the Miele HM 16-80 rotary ironer. It's electrically heated with a steam facility and foldable, capable of 13kg throughput per hour with a roller diameter of 160mm x 830mm. You can also iron comfortable while seated.
The second is the Miele HM 16-83 rotary ironer which is almost exactly the same as the other but capable of slightly more hourly throughput at 15kg. Alongside guaranteeing a perfect finish, these rotary ironers are simple and safe to use. Roller speed is infinitely selected using a rotary selector and roller rotation can be stopped at any time by pressing the footswitch. The ARAMID cloth and the aluminium trough ensure efficient results and the patented automatic finger guard stops the roller in its tracks and retracts the heater plate in the event that anything enters the gap between the roller and the trough.
Best results are always guaranteed with the steam function which adds moisture to dry laundry. The "dual-tank technology" enables steam to be ready quickly and distributed evenly over the entire ironing surface. Up to 40 minutes of steam are available per tank filling – an LED signals when tap water must be added. What we really love about these machines is that when the ironer is not in use, a convenient folding mechanism allows space-saving storage. When folded, the machine only needs 0.2 m² storage space.
Cost-cutting the environmental way
Miele always designs and develops machines that are economical and efficient. Miele Professional laundry machines excel in terms of extremely low consumption values and are acclaimed for maximum efficiency. The aim at the product design stage is to achieve perfect results by using recyclable materials and no more water, energy and cleaning agents than absolutely necessary.
Big or small we've got you covered, so if your ironing needs are pressing, roll on to our expertise.