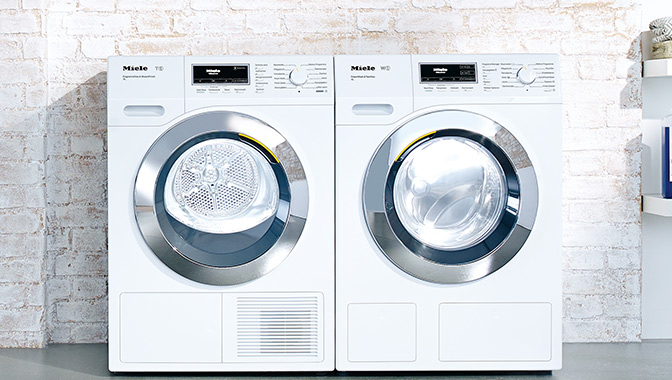 A tumble dryer is without doubt one of the greatest household inventions.
Good Housekeeping magazine, one of the most popular women's magazines in the UK with each issue regularly reaching an audience in excess more than three million people, describes this glorious appliance thus: "While it's not essential, a tumble dryer is a godsend if you have a large family that gets through a lot of laundry every week, or if you don't have space to hang washing to dry."
There is no doubt that the humble tumble dryer is a time saver, nevermind space saver. That is never truer than for commercial operations where turnaround of large amounts laundry is paramount. For them, a tumbler dryer is essential, because every day is like serving a very large family.
The difference between vented and condenser tumble dryers have been thoroughly discussed in a previous blog, but just in case – there are two common types of tumble dryer, the vented and the condenser. And the newest incarnation, the heat pump dryer, often found in commercial premises.
A quick recap
A vented tumble dryer expels out hot, damp air from the drum through a flexible hose to the outside, so is usually situated next to a window or wall.
The condenser model does not require a hose or an outside wall. It works by moving the hot air to a tank or a reservoir where the moisture is condensed into water usually under the machine.
The heat pump dryer uses clever tech to recycle hot air to dry.
A commercial tumble dryer could be any of the above in a place which requires extensive laundry output, ranging in size from 6.5kg to 40kg, all extremely durable, simple to use and able to cope with heavy workloads.
For hospitals and care homes, hotels and restaurants, beauty salons, gyms and sports clubs having an onsite commercial tumble dryer brings control of the laundry process. The right tumble dryer will ensure a smooth turnaround providing clean kit, fluffy towels, less ironing, energy efficiency, space optimisation, and reduced delays.
As one might expect, Liver Laundry has the knowledge and expertise to help our customers choose the right kind of dryer and the right model for the space, access and energy supply available, bespoke to the organisation, large or small.
Miele marvels
We work with market-leading Miele, whose tumble dryers ensure perfect results can be achieved quickly while also reducing energy consumption to a minimum thanks to their intelligent technology. Not only are they environmentally friendly, they attend effectively to a customer's bottom line. As well as the washing line!
Where space is limited Miele offers the washer-dryer stack; two high performance machines on top of each other covering a footprint of less than half a square metre. Further a Miele appliance is gentle on fabrics, provided by their unique honeycomb drum or the softlift drum ribs found in some models.
There are numerous other reasons to choose Miele and almost too many to mention. The Little Giant range, is well named, small and perfectly formed, but big on performance and tech. For example, like the Little Giant washing machines, they benefit from WiFi functions while a high performance WiFi/LAN module is also an option. This allows the machine to be integrated easily into existing networks and used in conjunction with Miele apps and external systems bringing future proofing, efficiency and convenience to any operation.
In this era of digitisation and data capture, Miele also understands that recording operational data is of increasing importance to commercial outfits. Their machines can provide a broad range of process data for optimisation of procedures and comprehensive efficiency calculations.
Miele dryers have 'brains'! To prevent laundry from becoming tangled, Miele dryer control changes the rotation direction of the drum at irregular intervals. Two separate motors for the drum and fan ensure that the airflow is not interrupted and thereby create the conditions for crease-free, uniformly and gently dried laundry. Now, who wouldn't want some of that cleverness?
Exclusive to Miele
There are also several features exclusive to Miele. For example, their H₂O dryer which can be used wherever hot water is available – from a combined heat and power unit or from local heat networks and alternative energies. However, in areas where hot water is produced as a by-product in other systems, the H₂O dryer is the optimum choice when the economic aspects are considered.
Their patented extra-large filter described as 'ergonomic convenience' is an easy-to-remove filter that captures the fluff from several drying cycles easily.
Then there's their PerfectDry system which consistently measures the residual moisture of the laundry to achieve precise results, no matter what the water quality because the system also measures the conductivity of the water used for washing!
Additionally, their patented Air Recycling Plus system recirculates heated air created by the drying process to give very low energy consumption and short drying cycles, along with using recyclable materials, which underscores the brand's environmental and efficiency credentials.
According to ehow.co.uk's history of the tumble dryer: "Today's dryers point to the green and energy-efficient obsession of our culture."
Much more than an obsession, it's a necessity which Miele is obsessed with.