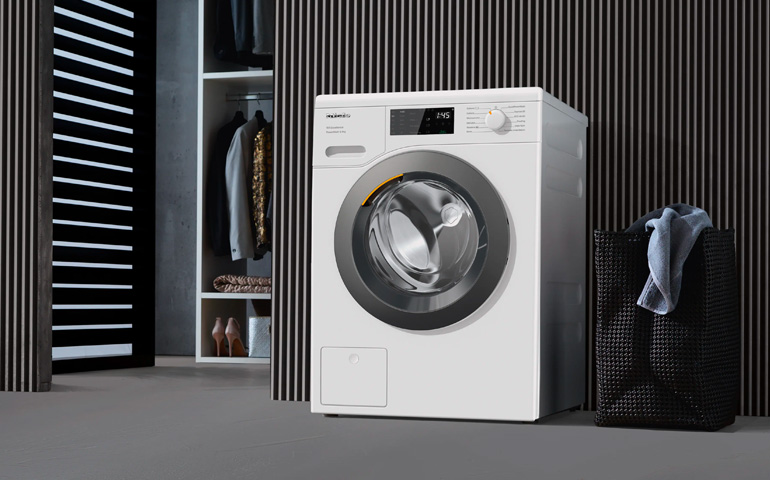 Years ago, this author's mother went to a big store in the heart of Liverpool to buy a new washing machine. There was a rep from Miele extolling the virtues of their appliances including just how robust it was, never mind how effective it was at cleaning clothes. As part of this the rep took out a coin from her pocket and scraped it up and down the side of the machine and it left no marks – a little like its washing performance.
Nearly 30 years later that same machine was still going strong when it was passed on to make way for an upgraded model which, it was felt, was well overdue.
The point of this true story is to illustrate that Miele have been doing great things for years across the whole range of their appliances, domestic and professional. It's one of the reasons that we at
Liver Laundry are also happy to extol the virtues of their 'immer besser' philosophy and to recommend their products.
Quality takes time
Miele doesn't develop just anything without a serious amount of thinking beforehand. They always involve their customers directly in the development of new products. They have a team of professional innovators which travels to customer sites to gain insight into their operations and how they use the machines.
The team details the particular laundry process from laundry collection to cleaning and return and from that they can analyse how their products work with and for customers and apply that knowledge into further design and development, however small those tweaks might be.
Juergen Schaefer, Miele Product Marketing Manager, said in a recent interview:
"Sometimes it's the minor details that are the ones that change a product design or result in an innovation. The process can take as long as three years. It's important to remember that quality takes time. Miele will always focus on quality over a quick time to market."
It's that 'devil in the detail' approach that appeals to us and why we know that stocking Miele machines gives us peace of mind in knowing that our customers are being given the best and in turn they too can have peace of mind.
Be smart for your business
We have a large number of customers from a range of sectors from small business to the large, from hairdressers to care homes and they all expect immaculate cleanliness achieved with efficiency.
Economical washing machines (and dryers) from Miele's new SmartBiz entry-level model range were specifically developed for small commercial use.
The SmartBiz PWM 300 washing machine boasts commercial-grade quality for 15,000 hours of operation. Given what's been written above, it's very possible that this is a conservative estimate and is probably closer to 15,000 days. It has a high load capacity of 7kg, short washing programmes, offers perfect fabric care through Miele's patented honeycomb drum and is energy efficiency rated A+++.
Complementing it is the PWM heat-pump dryer. Again it's a commercial-grade machine with years of operation designed into it with the same load capacity and energy efficiency rating and benefits
from the patented honeycomb drum and energy efficient heat-pump technology. The SmartBiz machines are perfect if you require 1-3 cycles per day and for everyday soiling. Both benefit from fast and simple installation and are great space savers too because they are stackable.
If your small operation needs more than that which the SmartBiz appliances offer, then Miele has an easy solution in the aptly named Little Giant range of washing machines and tumble dryers. The new Little Giants are available in two high-performance model ranges. Washing machines and tumble dryers from the Performance range excel in terms of even shorter cycles, thorough cleaning and superb economic efficiency, while the Performance Plus models also feature various drum volumes, a full-touch colour display with text in 32 languages and connectivity.
And happily, you won't have to invest in replacement machines for quite a while, (maybe years) because these are currently as innovative and effective as they get and Miele's innovation mission is as robust as their products.