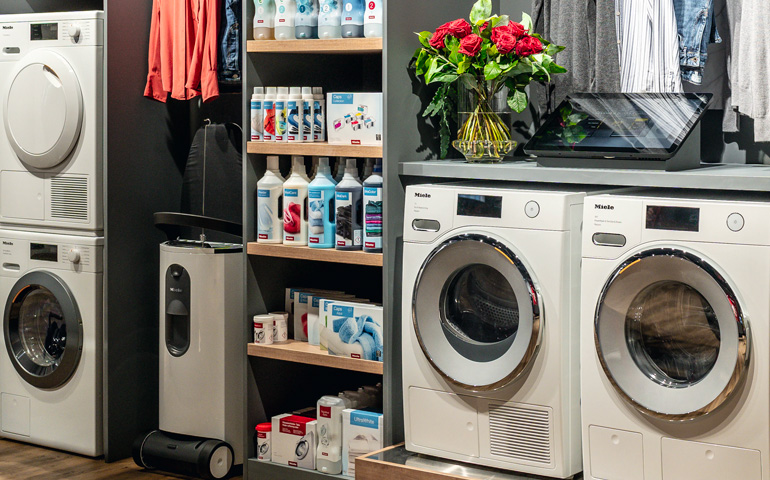 There's been a dearth of good news about energy prices of late, especially on the impact it has on the rising cost of living, but an Ofgem announcement in July means that the bills of a typical household will now be decreasing. The regulatory body introduced a lower energy price cap of £2,074 a year for a typical household paying by direct debit, down from £3,280. The Ofgem price cap limits what you pay for each unit of gas and electricity you use, plus the maximum daily standing charge. That said, energy prices are still high – almost £1,000 more than January 2019, when the average was around £1,130 per annum.
Tumbling bills
So how can you reduce your bills further or at least keep them stable? One way is to look at your household appliances and how much they cost to run. The most expensive appliance is a tumble dryer – no surprise there. There is, of course, more than one type of tumble dryer and, top of the 'should I really switch that on' list is the condenser dryer. It's estimated that on average it will cost £170+ a year to run from the start of July, based on an average electricity unit rate of 30p per kilowatt.
The heat pump dryer in comparison costs less than half that amount, coming in at around £60 based on drying three loads per week every week for a year. In fact this appliance is one of the cheapest appliances to use in your house. It's reduced energy consumption means that a heat pump tumble dryer is also better for the environment than a condenser or vented dryer.
The heat pump dryer
The best heat pump tumble dryers are genuine energy savers, although they usually cost more than condenser or vented dryers – as much as £200. Still, prices are beginning to tumble and even so, over a short period of time you'll begin to save more money than if you went for the cheaper-up-front alternatives.
Heat pump tumble dryers are the next generation of the condenser tumble dryer, new innovation means more expense, as a rule of thumb. They still have a condenser that separates water from the warm air that passes over the wet clothes and puts it in a water tank. But with this appliance the remaining dry warm air is then pumped back through the drum, re-using it to help the clothes dry faster, making them super energy efficient. The water tank will need emptying though, unless it's plumbed in. Condenser tumble dryers are the more popular though and almost exactly the same, except without the heat pump to reuse the air.
Marvellous Miele
Miele has a tumble dryer for every setting – domestic or commercial – 124 to be precise and many of them are the heat pump versions. They also offer the condenser and vented varieties. Miele heat pump dryers set the standard worldwide for quality and durability. With EcoDry technology, Miele keeps energy consumption low and drying times short throughout the entire service life of the appliance. Miele's marvellous machines also ensure not only particularly soft, but also beautifully fragrant laundry with the FrangranceDos fragrance system.
Miele dryers are in an efficiency class of their own: especially when it comes to moisture release. Thanks to the high-performance drying technology, very little moisture is released into the room air. Sustainability and the development of efficient products have been a key part of Miele's ethos for more than 120 years. The careful selection of materials ensures that Miele appliances have a long service life and are highly recyclable.
Every single heat pump dryer for the home that Miele offers boasts an A+++ efficiency rating and there's a model to suit every requirement. Their commercial models are similarly efficient and you can choose from the SmartBiz or Little Giants models or slimline designs for tight spaces, all ranging from 7kg drums to 11kg. They all have extremely short programme cycle times and deliver outstanding laundry care.
So, while a heat pump tumble dryer may cost more money up front, it's likely that it will save you some of your hard-earned cash in the long run.