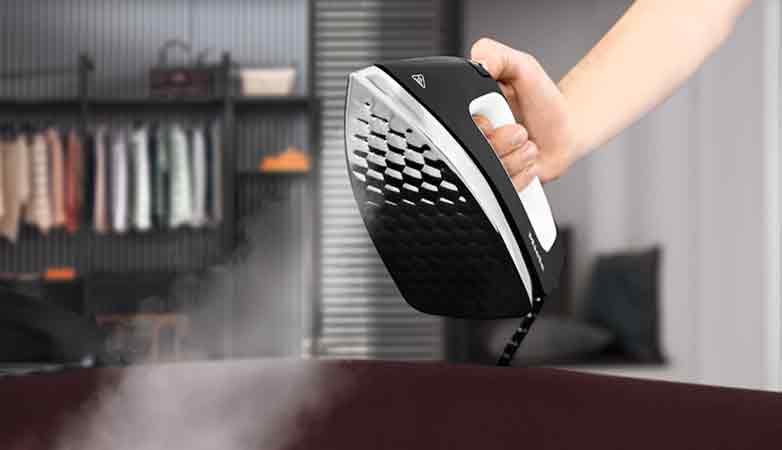 This writer recently stayed in a lovely hotel and enjoyed all its benefits from the sumptuous buffet breakfast to the thermal spa, from room service to the onsite golf course (and the equally important 19th hole.)
But the biggest luxury of hotel living, however short the stay and however infrequently this kind of hospitality is enjoyed, is possibly the bed. There's nothing like one's own bed of course, but when entering that hotel room, one knows that there will be crisp white bed sheets perfectly ironed, with not even a hint of crease other than those four expertly folded 'hospital' corners.
It's an underappreciated joy because in a hotel this happens daily, unlike at home – who changes their sheets at home more than once a week, or once a fortnight?
Making light of heavy work
So how do they get the sheets so perfectly flat, so perfectly crisp? Don't for a second think that it's just someone standing there for hours on end with a plug-in iron. How many people iron their sheets at home anyway? Probably only those who also iron their socks!
Both domestic and commercial ironing aims to achieve the same wrinkle free goals, but that's where the resemblance ends. That said, before the invention of large rotary irons or steam presses, multiple irons were used. Historically, larger tailors' shops included a tailor's stove, used to heat multiple irons quickly and efficiently, although presumably octopuses were not employed. In the commercial space, the latest machines are designed for speed as well as ease of use and minimal energy consumption.
Today's machines are found in commercial laundries which service large operations like hotels and residential homes; and of course some places even have their own. They are designed to cope with large volumes and a great deal of use, meaning they have to be durable and economical.
Exceptional Miele
Quality counts of course and one need look no further than renowned German company, Miele, who make a range of electrically and gas heated ironers. As with all Miele Professional products they offer impressively low energy consumption values and maximum efficiency. With a Miele machine you save money and are friendly to the environment.
Miele offers more than 40 different models from the small and compact to the large and muscular suiting all types of laundry needs and industrial applications. Performance of all Miele machines is always exceptional with quick-heating aluminium heater plates ensuring any ironer is ready to use shortly after switching on.
The new flatwork ironers from Miele Professional are of first-class quality, have excellent throughput, benefit from innovative features and superb user-friendliness to ensure a perfect finish every time.
New PRI Ironers
The new PRI ironer is a workhorse of a machine, capable of big and wide amounts of laundry and comes in multiple models. Firstly the PRI 318 series, either gas or electrically heated with a capacity of between 59 – 87kg/h with a roller diameter of 300mm and a width of 1,750mm. Secondly, the PRI418, again gas or electric with a capacity range of 76,0 kg/h – 104,0 kg/h and roller of 365mm diameter and 1,750mm width. Finally their biggest beast, the PRI 421 has a capacity range of 78- 113,0 kg/h, a roller diameter of 365mm and a roller width 2,040mm.
The PRI machines benefit from a range of superb functions including the exclusive-to-Miele flexi-foot control switch, which helps eliminate mistakes when feeding laundry in. All these innovations are to help the highly skilled operator deliver best results every time and not run out of steam. Uniform pressures and steam functions guarantee a perfect finish and steam functions and a sturdy design and base ensure a high degree of stability.
The PM series
Miele's range of smaller ironers, the PM series, for smaller laundry operations similarly have benefitted from Miele's attention to detail. Ranging from a capacity of 23kg/h all the way to 60 kg/h, they have touch display state-of-the-art controls for precise temperature control and ironing speeds. There is also the peak load cut out and temperature selection for gentle laundry care.
The PM series also benefits from a range of features that are exclusive to Miele. These include feed- in monitoring; a flexible control foot system allowing the operator to stop the roll quickly and simply, and height adjustable feet for preferred ironing positions.
Space available and the work being processed will influence any choice and Liver Laundry will help you determine the most suitable ironer for your business, whether that's for pristine table clothes or that guest-pleasing crisp white bed sheet.