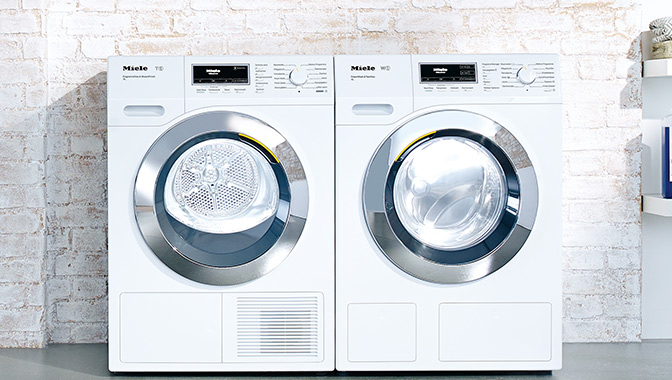 You don't need to be an expert in language – etymology – to know that both the words 'venting' and 'condensing' relate to water (as does the word dryer, for that matter), but while we are here..!
Briefly, 'vent' is from the Old French word eventer and the noun – the vent – can mean: outlet for water; while the verb – to vent – means: let out, expose to air.
Similarly, 'condense' also comes from Old French condenser (and possibly the Latin condensare) meaning: to make dense, which in turn in a science sense means: "to reduce to another and denser form" as in a gas or vapour to a liquid.
Knowing this gives a clue as to what the difference is between a condenser tumble dryer and a vented tumble dryer. It's how they deal with the water that the process of drying creates. The water in the form of damp air has to be released somewhere and these two appliances have different ways of doing so.
Vented Tumble Dryer
A vented tumble dryer removes moisture from the machine to outside a building through a vent that can be fitted to an external wall, or through a hose. It's similar to a kitchen or bathroom extractor fan that has a vent to the outside. It's because of this that a vented tumble dryer needs to be installed near an outside wall or a window so that a hose can reach.
Condenser Tumble Dryer
According to Which? condenser tumble dryers are the more popular type of tumble dryer. These appliances do not have a vent to expel moisture. The hot air is moved to a tank or a reservoir where the moisture is condensed into water (vapour to liquid) usually under the machine. The collected water then needs to be manually removed on a regular basis and most models alert the user when the tank is full. Best practice, however, is to do this after every cycle, unless it's a model that can be plumbed in. Without the need to expel the water through a hole in the wall or a window, a condenser tumble dryer can be plugged in anywhere.
Which is Better Vented or Condenser Tumble Dryer?
The biggest advantage of vented tumble dryers is that they dry clothes quicker than a condenser dryer. Integral to the design is the removal of moisture to the outside, meaning no damp build up or moisture retained in the machine itself which can cause odour, mildew which over the long-term might compromise the performance of the machine. The lint in the vent also needs regular maintenance.
They are also usually simple machines to use and should they need to be repaired this can be done quickly and easily. And if not, they are usually cheaper to buy and therefore replace as well as being more economical to run compared with their condenser cousin.
The main disadvantage is that a vented dryer's position in a room is dictated by its need to vent and has to be placed near an external wall or a window. Meanwhile simplicity doesn't allows mean something's better and in the main vented machines have fewer functions and features.
The most obvious advantage with a condenser tumble dryer is having fewer restrictions in where it can be situated. This allows for greater flexibility in using the rest of the space its occupying. It still needs to be placed in a well-ventilated room though, to prevent any condensation build up which might affect its ability to dry. A cool, dry place is desirable for optimum drying results.
These machines can also offer more in terms of usability, special drying options, and speeds for different fabrics and therefore can be gentler on textiles. Also given that they are the more recent innovation, manufacturers' focus is on using latest technology to improve their performance and desirability.
On the flip side though, they take longer to dry items which underscores the fact that they tend to be less energy efficient to run. Being the newer technology, they are also likely to more expensive to buy, repair or replace.
The Alternative
There is an alternative to the vented and condenser tumble dryer – the hot pump tumble dryer, which while generally costing more is seen as a real energy saver.
Heat pump tumble dryers are basically the next generation of the condenser tumble dryer. They still have a condenser that separates water from the warm air that passes over the wet clothes and puts it in a water tank. But with this appliance the remaining dry warm air is then pumped back through the drum, re-using it to help the clothes dry faster, making them super energy efficient.
Other than the higher cost, the drawbacks are that they can take longer to dry clothes and of course the water tank still needs emptying, unless it's plumbed in. 
Wind
Funnily enough the French word for 'wind' is 'vent' and offers a further alternative – the humble washing line, or the space saving rotary version. But what do you do if there's not even a breath of air or if it's raining and you need the work shirt quickly? You wear it wet and save up for the electrical appliance!