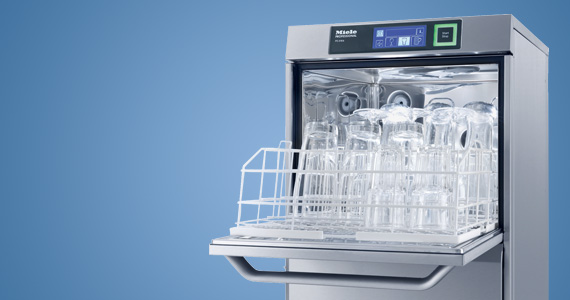 When you are choosing a new dishwasher. One of the first decisions you have to make, and one of the most important, is whether you choose a low temperature or high temperature dishwasher. That's why we have put together a this guide. Giving you the information you need to decide between a high temperature and low temperature dishwasher.
What is a Low Temperature Commercial Dishwasher?
Although they are called low temperature commercial dishwashers. Don't be fooled into thinking they use cold water. They still operate at between 120 and 150 degrees Fahrenheit. Many of the low temperature machines do not heat the water themselves. They require water to be pumped into the machine at the required temperature from your water heater.
This means you need to ensure your machine and heater are synced up. The heater needs to be configured so it pumping out water at the temperature you dishwasher operates at.
Because of the lower operating temperatures. In order for the contents to be correctly sanitised, it is necessary to add some form of chemical sanitiser during the wash.
What is a High Temperature Commercial Dishwasher?
A high temperature dishwasher is one which operates at over 150 degrees Fahrenheit. Usually between 150 and 180 degrees. Because of the temperature involved there is no need to use any chemical sanitisers. The very high temperature of the water does all the cleaning on your behalf.
The high temperature of the water is perfect for removing tough stains from crockery and glassware. However, this will mean you need to consider how the high temperatures generated will be removed from the machine. Some form of ventilation system will be required to ensure the dishwasher operates correctly.
Benefits of a Low Temperature Dishwasher
If you are on a tight budget then a low temperature dishwasher is probably the best choice for you. As they are generally cheaper than their high quality alternative. However, there are many other reasons why a low temperature dishwasher might be the right decision.
Energy Efficient
One of the biggest benefits is energy efficiency. Because the dishwasher operates at a lower temperature, less energy is used heating the water up. There is also no need to invest in a booster heater or ventilation system. Increasing the energy savings as you only need to run one machine.
Cooler Glassware
This can be a big positive if you run a bar. You can't serve cold drinks in hot glasses. Although the cycles are slower with low temperature dishwashers. You don't need to wait for glassware to cool down before you can use them. Which might mean a faster wash cycle all things considered.
Less Steam
The lower temperatures mean less steam is produced. And as mentioned previously this means there is no need to consider a ventilation system. But there are also other benefits to this. Less steam means a more comfortable environment for your employees. And reduced damage to the surroundings from condensation.
Benefits of a High Temperature Dishwasher
If you need a dishwasher for a fast paced environment, then a high temperature dishwasher could be what you need. But there are many other benefits to purchasing a high temperature dishwasher.
Doesn't use Chemical Sanitisers
This is one of the main benefits of a high temperature dishwasher. The cleaning and sanitising is done by the heat of the water. This reduces the possibility of damaging crockery and glassware. As there is always a chance of a reaction when using chemicals.
This has a long term benefit as well. There is no need to keep purchasing chemicals to run your machine. So even though there is a higher initial purchase cost. The running costs could be lower.
Quick Cycles
High temperature dishwashers are so well recommended due to their speed in the commercial environment. The operating temperatures involved means the contents can be cleaned and sanitised very quickly. This is ideal for businesses who deal with high volumes on a daily basis.
Stain Removal
The high temperatures also give the optimum conditions for cleaning. Tougher stains such as grease and fat are readily removed with a high temperature dishwasher. Whereas with a low temperature dishwasher you may need to either run more than one cycle, or manually wash some items first.
Which Should I Purchase?
Most people perform extensive research before making a purchase now. And when you do your research you will probably see high temperature dishwashers coming out on top. But you should consider your needs before a purchase.
If your main need is efficiency then you will need a high temperature dishwasher. But if you are on a budget, and you don't have a lot of spare space then a low temperature dishwasher is probably best for you.
Whatever type you decide to purchase. We have a range of commercial dishwashers available. And if you need more information on commercial dishwashers, contact us today.