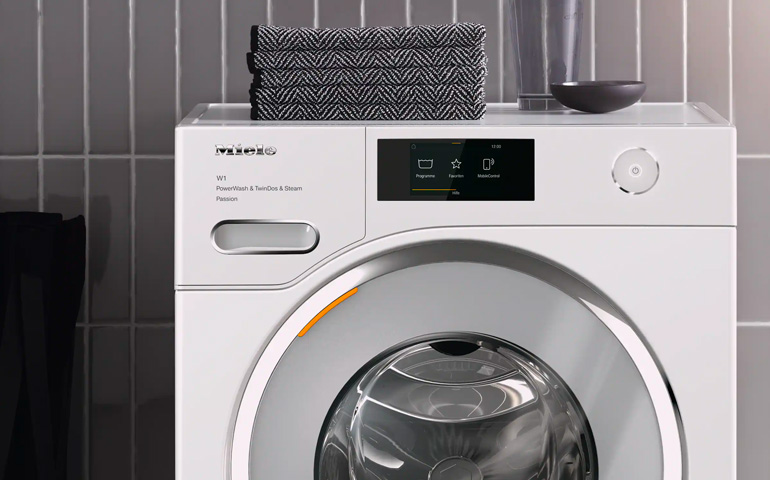 In these days of rising energy costs many are looking at the appliances that they use and wondering just how efficient and economical they are. A simple online search throws up loads of advice on how to keep your bills tumbling downwards and in many cases the humble tumble dryer is targeted.
If this is a domestic concern then it sure is also a concern to those who use tumble dryers and related appliances in a commercial or industrial setting. Using words like 'commercial' and 'industrial' also conjure up images of big beasts of machines – the behemoths of the laundry business. And the bigger you go, the bigger the energy use and cost. Right?
Do your research
Well perhaps, but not always so it definitely pays to do your research. When looking for large capacity tumble dryers probably the first item on the wish list should be 'energy saving', followed closely of course, if not on a par, with 'reliability', because those two key phrases equate in a business's lexicon to cutting costs and saving money.
When looking to purchase a large industrial dryer, therefore, buying peace of mind is crucial – a machine that does what you need it to, without breaking the bank in the process.
Massive Miele marvels
We at Liver Laundry are firm advocates of the precision, efficiency and technical quality of Miele, a company that never rests in its quest for excellence. Unsurprisingly Miele has an exceptional range of tumble dryers to meet most if not all needs. The Miele Professional Tumble Dryer range is rightly lauded for producing unbeatable drying results, while having 'an eye on the meter' in order to save on water and electricity bills.
There are two common types of tumble dryer, the vented and the condenser. And the newest incarnation, the heat pump dryer, often found in commercial premises.
A vented tumble dryer expels out hot, damp air from the drum through a flexible hose to the outside, so is usually situated next to a window or wall. The condenser model does not require a hose or an outside wall. It works by moving the hot air to a tank or a reservoir where the moisture is condensed into water usually under the machine. The heat pump dryer uses clever tech to recycle hot air to dry.
A commercial tumble dryer could be any of the above in a place which requires extensive laundry output, ranging in size from 6.5kg to 40kg, all extremely durable, simple to use and able to cope with heavy workloads.
Exclusive features
Here though we are talking about the big boys, 20kg +, and as we have said many times before the Miele Professional range boast, alongside efficiency, a variety of tech exclusive to Miele, specifically designed to save resources, time and money.
For example Miele's H₂O dryers can be used wherever hot water is available. This can come directly from a combined heat and power unit or be produced using local heat networks or alternative energies. However, in areas where hot water is produced as a by-product in other systems, this dryer is the optimum choice when considering, as they put it, the "economic aspects."
Efficiency comes as standard with Miele. While Miele's machines are well known for their short programme cycles there's even more to them that. There is still a lot of thermal energy in the exhaust air after the drying process and Miele's Air Recycling system feeds some of this heated air back into the drying process. As a result, the energy consumption is reduced.
It's all about low consumption values while saving money and being environmentally friendly. Miele Professional commercial laundry machines impress here too. It's a standard that is applied as early as the product development stage to guarantee perfect results by using recyclable materials and no more water, energy and detergents than absolutely necessary.
Exclusive to Miele is the Honeycomb drum which is uniquely kind to fabrics. The drum with its sculptured honeycomb structure creates an air cushion between the drum wall and the laundry and by cushioning the laundry in this way ensures gentle fabric care for perfect drying results and a perfect laundry finish.
Miele's exclusive PerfectDry system 'does what it says on the tin'. It consistently measures the residual moisture of the laundry to achieve precise drying results no matter what the water quality. This is because the system also measures the conductivity of the water used for washing the laundry and adjusts the drying process accordingly and under or over drying is avoided.
Brain boxes
And their intelligence doesn't stop there – these machines have brains! To prevent laundry from becoming tangled, the dryer control changes the rotation direction of the drum at specified intervals, ensuring crease-free, uniformly and gently dried laundry. The intelligent process technology with large items in particular again ensures perfect drying results. If these machines could take exams they'd be top of the class!
Less maintenance more work
Maintenance concerns are also addressed. Their patented Stream Clean Procedure keeps the heat exchanger constantly clean using the stream clean counter-current system. This means less down time for servicing because the machine's all fluffed up. Easy to remove, extra-large filters need emptying less often too.
All machines are easily programmable using the rotary control with language-neutral symbols. The clear text display shows the name of the programme at the same time, providing access to additional functions. What's more there are 29 different display languages to choose from.
Whatever the language however, we all know what Immer besser means – it's the guarantee of quality no matter how many kilograms of tumble dryer you need.