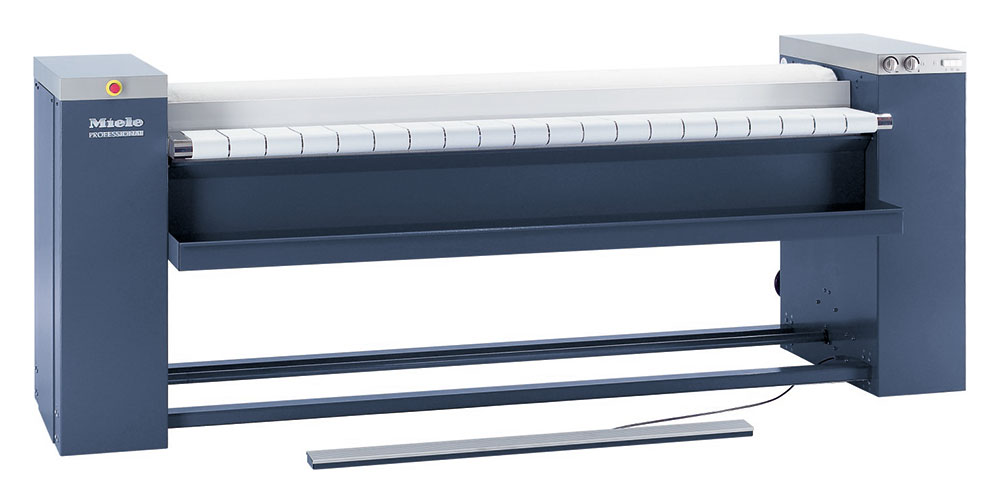 The national Covid-19 health situation that put us all on lockdown meant the need for an ironer, decreased! At home and elsewhere, we are up and running again and having starched collars and flat sheets and the like is again more pressing!
Commercial ironing is a world away from domestic ironing, but the goal is the same. To produce beautiful wrinkle-free laundry quickly and inefficiently. And so, a regular hand iron or a large industrial ironer is a key element of the finishing line.
In the commercial sphere, the latest machines are increasing productivity, reducing energy consumption and becoming easier to use.
Over the years ironing has been reinvented and revolutionised. The first known use of heated metal to "iron" clothes is said to have taken place in China. While the electric iron was invented in the USA in 1882, by Henry W. Seeley. Before the use of large rotary irons or steam presses to remove wrinkles, multiple irons were used. Historically, larger tailors' shops included a tailor's stove, used to quickly and efficiently heat multiple irons.
Flatwork Ironer
Fast forward to the 21st century and the renowned German company, Miele make electrically and gas heated rotary or flatwork ironers. Which, as you would expect, are quality itself. These are machines which you might find in a commercial launderette or a care or residential home, but also in hotels and offshore.
They therefore need to cope with a great deal of use and to be tough, and that's exactly what they are. As with all Miele Professional commercial laundry machines they offer impressively low energy consumption values and are well known for maximum efficiency. With Miele you save money and are environmentally friendly.
Performance of all Miele machines is always exceptional, with quick-heating aluminium heater plates ensuring any ironer is ready to use shortly after switching on. Uniform pressure across the whole working width guarantees a perfect laundry finish. And steam functions means they are powerful against creases giving quick and uniform results. Each of the machines also has a robust design and base to ensure a high degree of stability.
Rotary Ironer
Miele rotary ironers are the perfect complement to high-performance Miele washing machines and tumble dryers. They come in a range of sizes to suit any use. From the most demanding of textiles and fabrics, such as quality bedlinen in five-star hotels, to large volumes of laundry produced by hospitals and care homes. Similarly, Miele offers a range of rotary ironers for smaller laundry operations tailored to the quantity of laundry being processed and to customer need.
Miele Professional popular PM series of ironers has three models, (1217, 1214 and 1210), for ease of use as part of a complete Miele laundry package. Ranging from a capacity of 23kg/h all the way up to 60 kg/h, they have some great features like touch display state-of-the-art controls allowing precise control of temperatures and ironing speeds. Which also includes a pause function to keep the machine ready by stopping roller rotation and retracting the heater plate.
Additionally, there is the peak load cut out and temperature selection for gentle laundry care. The PM series also benefits from a range of features that are exclusive to Miele. These include feed-in monitoring; a flexible control foot system allowing the operator to quickly and simply stop the roll, if pieces need adjusting on the infeed table; and height adjustable feet in order to provide the best possible ergonomic environment to suit each operator's build and preferred ironing position.
Air-cushioned heater plates guarantee uniform contact pressure across the entire length of the roller which ensures both high throughput and an excellent finish. These and many more innovations have made Miele PM rotary ironers a highly successful machine. A first choice for a perfect laundry finish. They give optimum results, exceptional convenience, and they are economical to run.
The PRI ironer comes in 18 different variations, offering great flexibility. It's a bigger workhorse capable of much bigger and wider amounts of laundry – all the way up to 113kg/h and over two metres width. Like its PM counterpart, the PRI machines benefit from a range of superb functions including the exclusive-to-Miele flexi-foot control switch, which makes mistakes when feeding laundry in easily avoidable. All these innovations are to help the highly skilled operator deliver best results every time.
The choice of ironer by an on-premise laundry will obviously be influenced by the space available and the work being processed and will vary from sector to sector. Liver Laundry works closely with customers to determine their exact requirements before suggesting the most suitable ironer for their business.
If you would like to discuss your needs further, contact Liver Laundry Equipment today.